Mervue Laboratories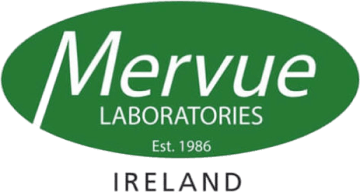 Mervue Laboratories is a privately-owned animal nutraceutical and specialty products company established in Ireland in 1986. Mervue Laboratories have over three decades experience manufacturing and supplying high performance nutritional products to the global animal market. At Mervue, we strive to set the standard for discovery, development and manufacturing of high quality veterinary formulated nutraceuticals to maximise the health, productivity and welfare of animals worldwide.
Our production facility located in Cork, Ireland employs the latest technology to ensure that all the products are manufactured to the highest standard under GMP+. Our dedicated quality team works to ensure the highest quality, full product traceability and safety of all our products. The rapidly expanding export growth and robust new product development pipeline has transformed Mervue Laboratories into one of the fastest-growing nutraceutical companies in the world.
At present Mervue Laboratories manufactures over 400 different formulations, many of them made to the exact requirements of veterinary surgeons worldwide. Mervue Laboratories exports to over 60 countries worldwide.